2017 Land Rover Range Rover Evoque Convertible Road Test Review
June 15 2018, Land Rover Vancouver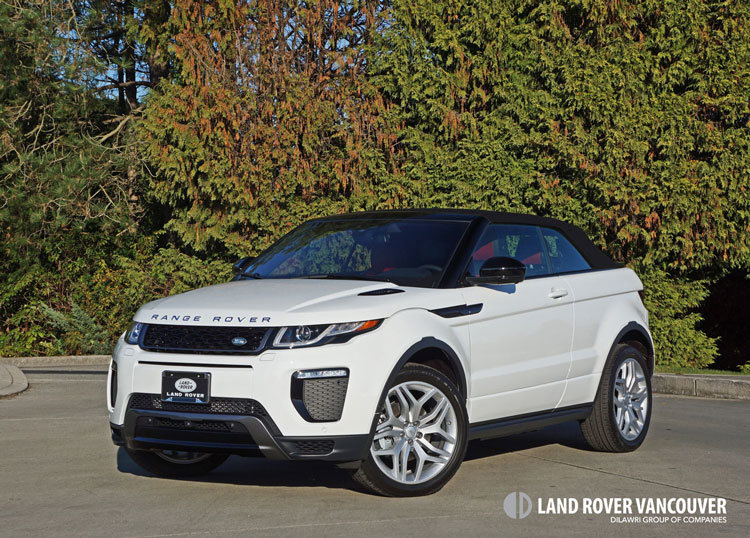 If you want to stand out in the world of luxury, you can't merely imitate. You've got to innovate. Land Rover and its most premium Range Rover division have long done so by helping to create the sport utility segment in the 1940s, developing the first-ever luxury SUV in the 1970s, and now bringing to market the world's first-ever luxury SUV convertible.
World's first? I suppose Land Rover already deserves that title for its Defender 90 SUV, but the new Evoque Convertible is the first version with a fully automated and insulated power retractable roof plus a truly luxurious interior.
Superb looking drop-top SUV stands out in a crowd
It looks superb with its powered Z-folding fabric roof in place. The designers made the cloth roof flow fluidly into the rear portion of the vehicle, with only a slight semblance of a rear deck lid remaining, the latter seeming more like a big spoiler across the SUV's backside than the top of a trunk. Altogether it has a particularly nice visual flow from front to back.
I received more positive feedback while taking notes during its photo shoot than anything I've driven in recent months, and I've enjoyed some exemplary rides. Likewise while driving around on an ideally sunny afternoon most onlookers smiled and raised their thumbs high. I think Range Rover has a hit on his hands.
It might not sell as well in Montreal or Toronto as it does in Vancouver, but from what I've been told, fashionable Londoners have been snapping them up despite the city's often depressingly dreary conditions. My local dealer (Land Rover Vancouver) sold three Evoque Convertibles in one day: one to a couple that were riding their bikes past the dealership when they noticed it, and the wife said to her husband, "we must have that" or so I was told. It just so happens they already owned an Evoque Coupe, so the transition to the open-top version made perfect sense. This also says a great deal about Range Rover customers, they're amply satisfied to stay in this British SUV family.
Other than its augmented roof the Evoque Convertible is pretty much identical to the two-door coupe that's now discontinued here in Canada, at least ahead of the rear seatbacks. Instead of the usual large roomy cargo area there's a wide, deep trunk behind a fixed rear bulkhead designed to increase structural rigidity, with a pass-through at centre for fitting longer cargo.
Evoque Convertible's standard and optional feature list impressive
Unlike the regular four-door Evoque, the Convertible comes standard in HSE Dynamic trim at a base price of $65,990, with highlights including the pushbutton ignition, rain-sensing wipers, power-folding heatable side mirrors with approach and puddle lamps, front and rear parking sensors, heatable leather-wrapped multifunction steering wheel, auto-dimming rearview mirror, Bluetooth, reverse camera, 380-watt 10-speaker Meridian audio, 12-way powered and heated front seats with three-position memory for both, and all the expected active and passive safety features from the four-door's base SE model (plus structurally upgraded roof pillars, a reinforced centre cross-member, and deployable roll hoops behind the rear seats); the HID headlights, fog lamps, proximity-sensing access, configurable mood lighting, Homelink garage door opener, larger 10.2-inch InControl Touch Pro infotainment touchscreen with navigation, Oxford leather upholstery with perforated inserts, and powered tailgate from that more conventional body style's HSE trim; and the previously noted hood louvres, additional exterior styling upgrades, 20-inch alloys on 245/45 Continental Cross Contact rubber, illuminated metal treadplates, plus more interior trim upgrades from the HSE Dynamic.
My tester also included the full leather upgrade, a $1,300 addition that covers the instrument panel and door uppers with contrast-stitched leather and enhances the upholstery to all Ebony black with contrast white thread or a variety of colours added to the seats, door inserts and stitching, my car's black interior complemented with fabulous Pimento red, while Lunar grey with Ivory cream, Ebony with Vintage Tan, or Lunar with Ice blue/green is also available. Additionally my example swapped its standard textured aluminum dash inlay for $400 worth of Gloss Black Strata veneer, while the stock stereo was improved to a 12-speaker Meridian system with 660 watts of power for an additional $1,100, which was really useful due to the open-top SUV's airy ambiance.
Lastly, a $2,300 Advanced Driver Assistance package added a crystal clear 360-degree surround camera with visual park distance control and towing assist, automated parallel and perpendicular parking with parking exit, enhanced navigation with traffic sign recognition, attention assist to make sure you're not falling asleep at the wheel, lane keeping assist with autonomous braking if you do, plus blindspot monitoring with reverse traffic detection and closing vehicle detection. Altogether it came to $71,090 before adding freight, fees and taxes, a reasonable price for such a well-equipped luxury SUV convertible, not that there's anything to compare it to.
If you fully load up your Evoque Convertible with the nicest paint, priciest wheels (there are four alternative 20-inch alloys from no-cost black rims to $500, $1,000, and $1,500 versions to choose from), the aforementioned $1,700 adaptive headlights, $1,500 adaptive cruise control that also adds Queue Assist, Forward Alert, and High Speed Intelligent Emergency Braking, $1,300 luxury seating package, $1,300 head-up display, $400 rear seat wind deflector, and every other feature available you can tack on an additional $10k to the model I tested, but you'll have created a little Bentley GTC in the process, albeit one that'll go just about anywhere.
Serious off-road and on-road chops
The Evoque Convertible is a true 4x4 that can crawl over rocks and roots, straddle deep divides, clamber up steep embankments of loose gravel or snow, wade through mud and muck and even ford 500-mm puddles and rivers. Range Rover includes four Terrain Response settings for overcoming all kinds of obstacles from grass to gravel and snow, plus mud and ruts to sand, as well as general driving, of course.
Some of the tech that goes into its off-road prowess also makes the Evoque one of the best performing SUVs on pavement, from conveniences like hill start assist and hill decent control to an active driveline that continuously monitors the vehicle's parameters and those uncontrollable ones outside before seamlessly engaging four-wheel drive within 300 milliseconds if needed. Available ABS brake induced torque vectoring also continuously monitors the SUV and road surface below before distributing available torque between each wheel for the best possible steering response and grip. There's more, but I'll leave it there.
All Evoques utilize the same direct-injection turbocharged 2.0-litre four-cylinder that's good for 240 horsepower and 250 lb-ft of torque, which allowed the little drop-top SUV to pull away from standstill with ample energy. Its nine-speed auto was wonderfully smooth too, even better than I remember last year's version being, and brilliantly quick shifting via steering wheel paddles. That its rotating gear selector actually powers up out of its otherwise flush lower console position upon startup is just one of those wow-factor moments that never gets tiresome in this ultra-special ute; the Brits certainly know how to make a grand entrance.
The Evoque Convertible happily snaked through serpentine stretches of roadway too; the impressive electronics just noted no doubt coming into play. Putting it in perspective the regular Evoque is already more capable around corners than many of its peers thanks to a particularly wide and low stance, so it's only sensible this topless version would be more than adequately agile when road starts to wind, whereas ride quality was plenty compliant too.
Convertible drops easily and quickly
All this is fine, but the speed you can retract the Evoque Convertible's top and let the sunshine in is probably more important to its targeted buyer. That would be 18 seconds, and you can do so up to speeds of 48 km/h, relieving the stoplight anxiety some experience when attempting to power a more common convertible's top down or up.
Fuel economy? It's very efficient at 11.4 L/100km city, 7.0 highway and 8.6 combined, while its tailpipe only emits 201 g/km of CO₂ emissions.
So should we expect to see more luxury SUV convertibles in the near future or is this a one-off that no one will dare emulate? That will remain to be seen. Either way the Evoque Convertible, and any follower, will be a niche product no matter how you slice it, but at least with respect to this go-anywhere SUV there's something romantic about dropping the top while exploring the wild unknown a la classic Land Rover Series I, II, III, or Defender 90 style, and it'll likely cost you less to do so in this brand new 2017 model than attempting to snatch up one of the few available 20-plus year old Defenders on the pre-owned market. Kudos to this revered British brand for having the courage to create something that's unique and appealing enough to become yet another future collectable.
Story credits: Trevor Hofmann, Canadian Auto Press
Photo credits: Karen Tuggay, Canadian Auto Press
Copyright: Canadian Auto Press Inc.