2016 Land Rover Range Rover Sport HSE TD6 Road Test Review
June 15 2018, Land Rover Vancouver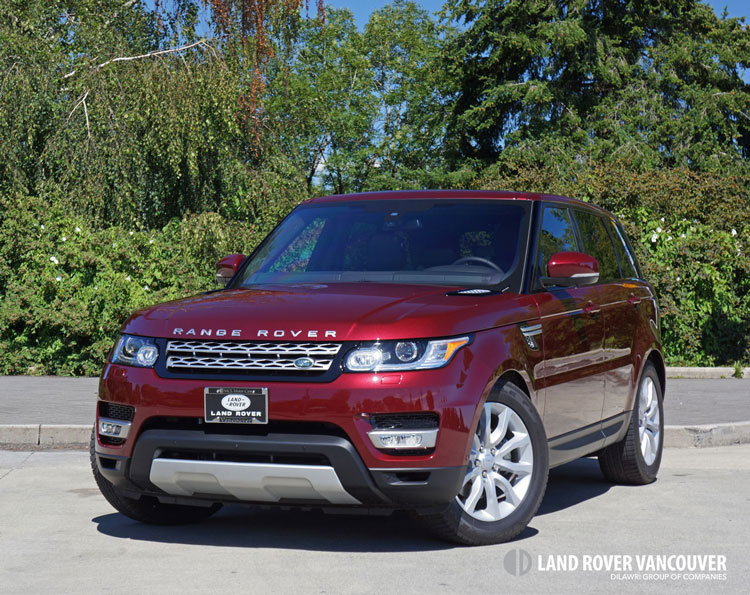 Suburb efficiency from the midsize luxury segment's most impressive SUV
Those who travel extensively will appreciate that diesel engines are much more prevalent in other parts of the world. Europeans have long preferred them, with more than 70 percent of new vehicle buyers in some EU nations choosing diesel over gasoline or alternative fuels. Land Rover produces a number of advanced turbo diesel engines for such customers, and fortunately we can now enjoy one right here at home.
Meet the 2016 Range Rover Sport HSE Td6, every bit as impressive an SUV as last year's model albeit infused with a more efficient new heart. I realize that I'm probably not speaking to the Range Rover Sport V8 Supercharged or SVR owner already enjoying zero to 100km/h times of 5.3 and 4.7 seconds respectively, unless they feel a newfound calling to delve deeper into the wild green yonder and therefore require much-improved fuel economy to do so. While such thriftiness has its merits off-road, most will appreciate the Sport Td6's superb 10.6 L/100km city, 8.1 highway and 9.4 combined five-cycle rating even more while attending to their regular daily duties, while its 7.6-second sprint to 100km/h is hardly lacking.
That's a 32-percent fuel economy advantage over the gasoline-powered V6, which makes the Sport Td6 just as efficient as a FWD V6-powered mid-size sedan, while maximum range goes up by eight percent to 1,052 kilometres on a single tank. And just in case you're spooked by a certain German manufacturer's diesel scandal, Land Rover made sure its diesel engine is North American certified by including a special selective catalytic reduction (SCR) system that injects a urea-based fluid into the exhaust flow, plus recirculating low-pressure exhaust-gases (EGR) through an engine-mounted cooler ahead of reentering the combustion chamber. Additional efficiency measures include a low-friction cam-to-cam chain, plus low-friction radial shaft seals, pistons and rings, as well as a two-stage oil pump design, and high-pressure 2000-bar injectors.
Joined up to an eight-speed automatic with paddles it's a wonderfully smooth and soothingly quiet alternative to gasoline power, while its ability to drive farther between fill-ups improves an important aspect of the luxury experience.
As usual, the legendary Terrain Response four-wheel drive adds confidence whether off-road or on, albeit this particular tester wasn't outfitted with the optional Extra Duty package that adds a more sophisticated Terrain Response 2 system with additional road/trail settings, a high and low range Twin Speed transfer case, All Terrain Progress Control, and Adaptive Dynamics, so it was probably best I kept to paved surfaces, yet even if rain or snow had made things slippery I'm sure it would have remained stably within its lane. I've learned this first-hand during mid-winter jaunts up local ski hills, longer stints to Whistler, and extended runs up and down the Coquihalla in multiple Land Rover and Range Rover models, sometimes traveling over snow, other times taking to fast-paced gravel roads and once even tackling the trail as part of the Land Rover Experience Driving School. No matter the road traveled or its condition the SUV at my command made my work light while keeping everyone onboard ultimately comfortable.
Prior to this 2016 Sport HSE Td6 I tested a near identical 2015 Sport HSE with the model's base supercharged 3.0-litre gasoline-fueled V6 that's good for 340 horsepower and 332 lb-ft of torque. It's fractionally quicker off the line, but its claimed 14.0 L/100km city, 10.5 highway and 12.4 combined fuel economy isn't quite as appealing, and it's difficult to argue against 440 lb-ft of 3.0-litre V6 turbo-diesel torque available from just 1,750 rpm when it comes time to tow. To be clear it's not that the Sport's 3,500-kilo (7,716-lb) tow rating is any better, but rather that more torque is available lower down the rev range to make throttle application easier and smoother, while all Sport's are aided by standard trailer stability assist.
On that note don't be turned off by the Td6's seemingly low 254 horsepower rating, which is 86 horsepower lower than the base engine, but rather focus on the 108 lb-ft of additional torque. What's more, you and your passengers will only notice any engine noise when idling with the windows opened, its sound almost imperceptible with the glass sealed thanks to vibration reducing compacted graphite iron engine block construction and layers of sound deadening material attached to the firewall, whereas the auditory sensation at full throttle is similarly pleasing albeit a lower more guttural sound, closer to the supercharged V8.
Ride quality with both trims is excellent thanks to a standard air suspension that also improves handling, the latter being one of the Sport's key attributes since the model arrived on the scene in 2005 and even more so when it lost some 320 to 360 kilos (depending on trim) as part of a new aluminum-intensive 2014 model year diet, this despite gaining 180 mm in wheelbase and 100 mm overall to a new fully mid-size length of 4,851 mm. The updated Sport combines Evoque styling cues with those of the full-size Range Rover, revised the year prior, for a much more rakish profile and arguably more attractive look from front to back.
Of course, it's ultimately luxurious inside. To be clear, my tester was a step above the base SE model, the move to HSE prerequisite to getting turbo-diesel power and the only trim to receive it. The move up to HSE includes larger 20-inch twinned five-spoke alloys, aluminum-look exterior trim, fog lamps, a power-sliding panoramic sunroof (the base one is fixed), aluminum tread plates, 14-way powered front seats with memory, perforated leather upholstery, and a garage door opener, this over and above the well stocked base model's auto HID headlamps, passive access, pushbutton ignition, auto start/stop, electromechanical parking brake, a colour five-inch TFT instrument cluster, rain-sensing wipers, eight-inch touchscreen with navigation, 250-watt eight-speaker audio, forward and rearview parking cameras with active guidelines, Bluetooth phone and audio streaming, dual-zone auto climate control, power-adjustable heated steering wheel, heatable front and rear outboard seats, front and rear parking sensors, active and passive safety features galore, and so much more.
The base SE starts at $75,990 while the HSE is $81,490, my tester starting at $82,990 due to its surprisingly low $1,500 turbo-diesel upgrade, while Range Rover also replaced the standard Zebrano hardwood with Grand Black Veneer and the beige headliner with black, both $400. Its two additional options included awesome sounding 825-watt 19-speaker Meridian audio that was worth each and every one of its $1,950, plus a $2,200 Convenience package featuring soft-cinching doors, a surround camera, and automated parking assist, all of which resulted in $7,800 worth of options and an as-tested price of $90,790, excluding freight and fees.
The list of features still available is much more exhaustive, including various alloy wheel and tire combinations, optional roof colours, adaptive cornering headlamps with auto high beams, an extended leather package, a head-up display, four-zone auto HVAC with separate rear controls, cooled front seats, a centre console cooler, 16-way powered seats, a third row, blindspot monitoring with closing vehicle sensing, reverse traffic detection, lane departure warning with traffic sign recognition, dual-screen rear entertainment, adaptive cruise control with Queue Assist, autonomous emergency braking, active seatbelts, a towing package, and more.
It goes without saying the Sport HSE's interior was beyond reproach, with nearly every surface covered in soft touch synthetic or padded leather, metal, black lacquered hardwood or some other high-end material. And it's not just the quality of the materials that makes the Range Rover feel so special, but rather the SUV's substantive weight and solidity. Everything is so incredibly well made, especially the beautifully crafted rubberized metal switchgear. It's a true cut above any competitive SUV.
On a more practical note the rear outboard seats are sculpted like those up front, and while capable for three they're best enjoyed by two extremely comfortable passengers. There's no shortage of space so even tall or large folks should feel right at home, while the beautifully finished and fully accommodating cargo compartment benefits from 40/20/40-split folding seatbacks, making for happy warm kids on the way back from the ski hill (remember that rear seat heaters are standard).
Most reading this review already appreciate the Range Rover Sport as one of, if not the most impressive SUV in its class, but this Td6 designation adds an entirely new level of efficiency without noticeably impacting performance. That this turbo-diesel upgrade can be had so inexpensively means the difference can be paid off within the first year if you put on enough miles, or at least shortly thereafter, especially when factoring in cheaper diesel fuel.
As you can probably tell I'm a big fan, the Sport Td6 my choice over the base V6. Still, it's even better to have so many options.
Story credits: Trevor Hofmann, Canadian Auto Press
Photo credits: Karen Tuggay, Canadian Auto Press
Copyright: Canadian Auto Press Inc.